RJK Primo Winding Machine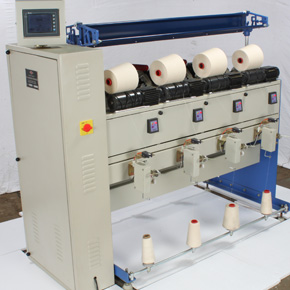 RJK Primo Winding / Parallel Winding Machine is the best Cone Winding / Parallel Winding machine available in India for Soft Package, Hard Package and Assembly Winding with Length Measuring System.
Features
Technical Specifications
Optional Attachments
Send Enquiry
Simple design and sturdy construction requiring less maintenance
Positive Tension Device
Positive Waxing Device
PLC Base Control for Better Performance
Touch Screen Display
Length Variation +/- 2%
Modules will be in 8 Spindles for Rewinding and 6 Spindles for Assembly Winder
Machine absolutely free from vibration
Dynamically balanced Bakelite / Metallic / Streel Traverse Drums of 95mm Diameter
Winding Type:
Random Winding
Layout (Double Sided):
For Rewinder and Soft Package Winder in multiples of 8 spindles and for Assembly Winder in multiples of 6 spindles.
Motor Description:
Individual Induction Motor per Spindle
Power Supply:
440V / 3PH, 50/60Hz
Power Consumption:
115 Watts at Maximum Speed
Drum Description:
6" Traverse Bakelite / Metallic / Steel drum
Take up Package:
Standard 5.57' - on demand 0°, 3.30', 4.20'
Package Size:
Max. 300 mm
Package Stop:
Automatic at present length or Yarn breakage
Tension Design:
Straight yarn path to ensure Minimal Yarn Abrasion, Motorized Tension System
Winding Speed:
400 to 1200 MPM
Other Features:

Speed Controlling System by using Inverter Drive for groups
Electronic Anti-Patterning System
Electronic Multifunction HMI
Individual Spindle Length Measuring System (in group of 4 spindles)
Dimension of Machine:

No. of Spindles Rewinding

8

16

24

32

40

48

56

64

72

80

88

96

No. of Spindles Assembly Winder

6

12

18

24

30

36

42

48

54

60

66

72

Length (mm)

1905

3430

4955

6480

8005

9530

11055

12580

14105

15630

17155

18680

Width (mm)

1220

Height (mm)

1680
Soft Package Winder
Assembly Winder
Splicer
Overhead Travelling Blower
8" and 10" Traverse Drum
Attachment of 3 ply for Assembly Winder
Motorized Waxing Device
Builder Cam Attachment
Interested?

Please fill up the form below and send it. We shall get back to you soon.