RJK Hand Splicer for Filament Yarn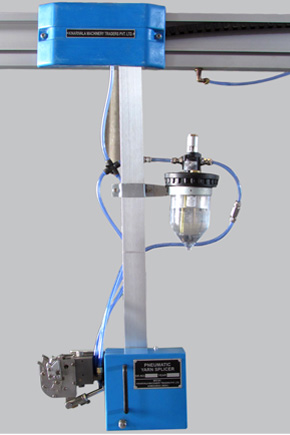 As a result of continuous R & D efforts RJK has come out with Manually operated Hand Splicer for Splicing continuous Filament Yarn including P.O.Y and L.O.Y. with count range for 20D to 600D.


Features
Technical Specifications
Optional Attachments
Application Areas
Send Enquiry
The Operator can position the Splicer in the optimum working position, and has the great advantage of working with both hands free
The optimized air supply increases and improves the reliability and the Splice results
Using rail mounted unit alleviates the damage caused by the falling, etc., and results in a substantial increase in working life and in a reduction in maintenance costs
Air Tracking System is a complete system which can be fitted on all kind of Textile Machinery where yarn joining is necessary, enabling a splicer to be positioned at any desired position for the convenience of the operator
Polyester / Viscose Filament Yarn within count range of 70D to 1500D.
Highly finished yarn contact surfaces together with special frictioners enable parallel fibres to be joined without damage to filament yarn
Special Scissors having Cemented Carbide Cutting Edge enhances the working life of Splicer and enables consistency in Splice Quality
RJK Hand Splicer can be installed with Air Tracking System with Trolley mounting as per customer's requirement / preferences
For good splicing, Dry & Oil-free Compressed air at Constant Pressure of 6 Kg / Cm2.
4-wheel trolley instead of Air Tracking System
Cone Winding Machine
Cheese Winding Machine
Precision Winding Machine
Two For One Twister (T.F.O.)
Warping Machine
Interested?

Please fill up the form below and send it. We shall get back to you soon.