RJK Hand Splicer for Ply Yarn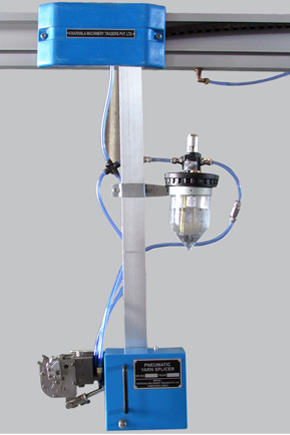 If you can Splice why knot? Splicer, the most advance technique of yarn joining even on Manual Cone Winders, Cheese Winders & TFOs. Splicing excels over knotting in terms of yarn strength, the size and quality of the yarn joints and improved efficiency in subsequent yarn processing, leading ultimately to a better fabric appearance.

RJK Hand Splicer (Wet) is the latest developments for retrofitting of splicing device on existing installations, which are using traditional knotters.

For this type of application RJK offers a manually operated Hand Splicer with Exclusive Air Track System (ATS)
Features
Technical Specifications
Optional Attachments
Application Areas
Send Enquiry
Automatic Pneumatic Circuit provides for consistency of splice qualtiy
The optimized air supply increases and improves the reliability and the Splice results
Using Air Tracking System mounted unit alleviates the damage caused by the falling, etc., and results in a substantial increase in working life and reduction in maintenance costs
Air Tracking System is a complete system which can be fitted on all kind of textile machinery where yarn joining is necessary, enabling a splicer to be positioned at any desired position for the convenience of the operator
Unique gripper system is provided for the collection of the tail ends
Cotton / Cotton Blends Single Yarn / Two Ply Yarn within Count Range Ne 100S to Ne 10S & Ne 2/100S to Ne 2/10S
Cotton open End Yarn single as well as 2 Ply upto resultant count - Ne 5S
Cotton / Synthetics / Acrylic and Blends Single Yarn within Count Range Ne 100S to Ne 10S
The Spliced Joint will have a retained splice strength of 70% to 90% depending on yarn count
Splice Length will be 20 to 30 mm and the Splice Dia will be about 1.5 times of parent yarn dia.
Required Dry & Oil-free compressed air at constant pressure of about 6.5 to 7 Kgs./Cm2.
Air Consumption: about 1 Ltr / Cycle
4-wheel trolley instead of Air Tracking System
Cone Winding Machine
Cheese Winding Machine
Precision Winding Machine
Two For One Twister (T.F.O.)
Warping Machine
Interested?

Please fill up the form below and send it. We shall get back to you soon.