RJK High Speed Cone Winding Machine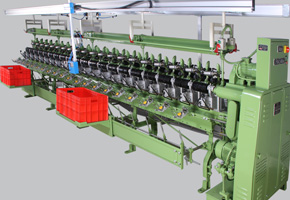 RJK High Speed Cone Winding Machine is the best Manual Cone Winding Machine available in India for Hard and Soft Package for Yarn Dyeing.


Features
Technical Specifications
Optional Attachments
Send Enquiry
Special Builder Cam Lever attachment is provided for getting required shape for 3.30 / 5.57 / 4.20 Paper Cones
Pressure Die Cast frames and frame covers made from aluminium alloy for superior strength and long rust-free life
Slow Falling Attachment to avoid damage to drums by reducing the impact on the drums
Automatic Mechanical Stop Motion with Hardened Steel / C. I. Internal parts complete enclosed in frame and immersed in oil bath to ensure trouble free performance
Standard make electric motors and components
Best quality double sealed ball bearings
Dynamically balanced Bakelite / Metallic Traverse Drums of 95mm diameter
Highly polished and ground steel shaftings for drive shafts and center shafts
A specially designed make and brake Electro-Mechanical contactor, with silver tipped contacts, which starts / stops the drive shaft to avoid ribbon formation
Oil circulating pump is a unique feature of RJK Cone Winders. This circulates oil throughout all the frames and maintains correct oil level
Machine absolutely free from vibration
No. of Spindles:
120 Spindles (or in multiples of 20 Spindles upto 160 Spindles)

Package Option:

The Machine is suitable to wind:

a) 3.30 / 5.57 / 4.20 Paper / Plastic Cones
b) Parallel Plastic Tubes for weft feeding of Automatic Looms

Yarn Suitability:
Cotton / Synthetics / Blended or Woolen Yarn
Winding Speed:
A Choice of 3 Speeds 500 / 600 / 700 MPM
Power required:
10.5 H. P. Standard Machine
11.5 H. P. with Blower
Dimension of Machine:

No. of Spindles

20

40

60

80

100

120

140

160

Length (mm)

3285

5285

8365

10905

13445

15985

18525

21065

Width (mm)

2000

Height (mm)

1000
Traverse Drums:
95mm dia Metallic Aluminium Hard Anodised drums


Traveling Blower:
Over-Head To & Fro type Heavy Duty Blower

Waxing Attachment:
Available with any type of yarn-clearer.


Special Supply System:
Universal supply bobbin peg with sliding trolleys for storing bobbins


Interested?

Please fill up the form below and send it. We shall get back to you soon.